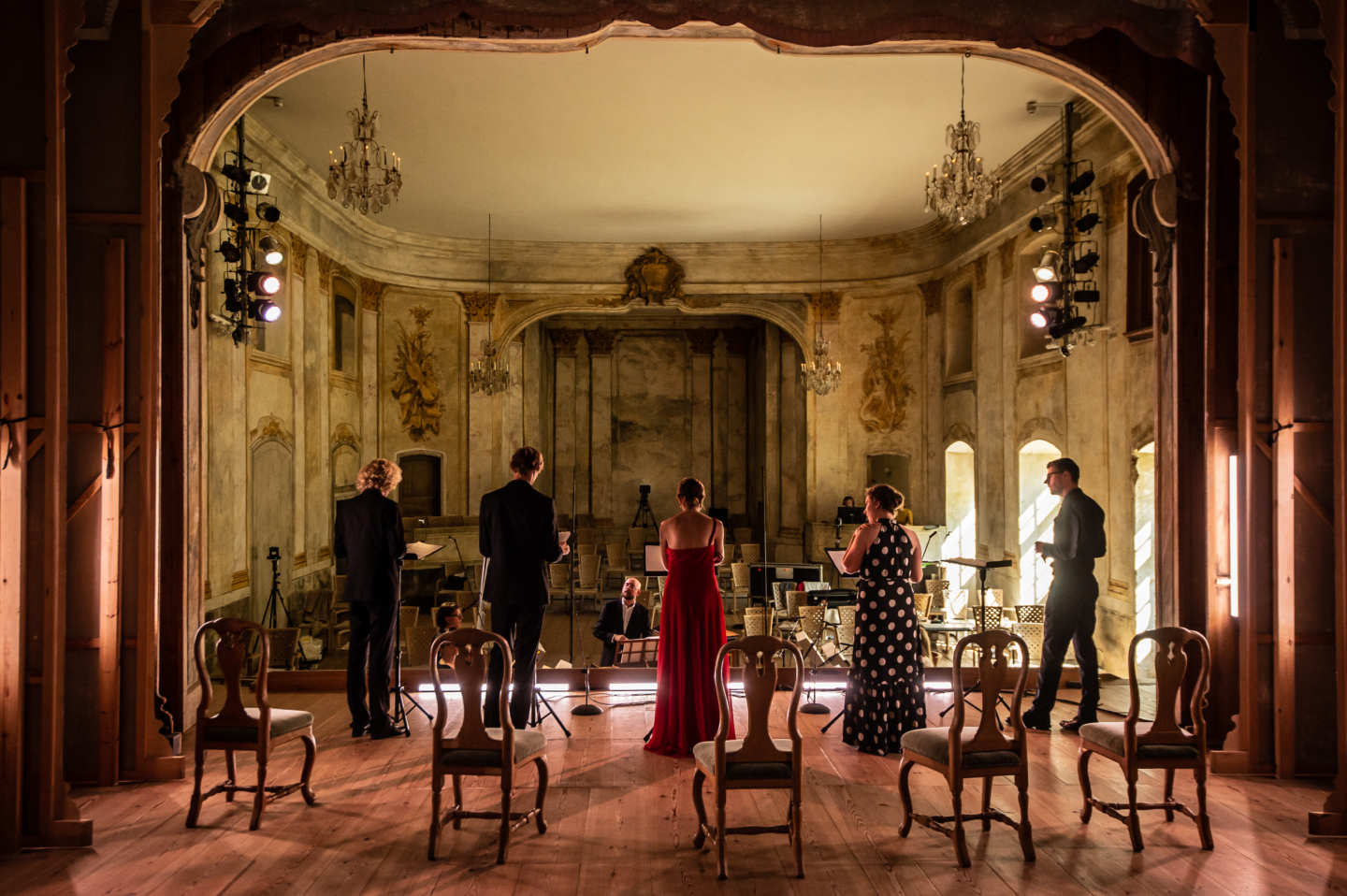 Announcement of scholarships
Confidencen Opera & Music Festival Academy 2022
As part of the Confidencen Opera & Music Festival, the Ulriksdal Palace Theatre Confidencen and artistic director Olof Boman have instituted an academy for young singers who want to develop their skills in the style of the Baroque. In its third year, four more singers will get the chance to work practically with music from the Baroque repertoire with internationally renowned coaches and with musicians from the Confidencen Opera & Music Festival Orchestra.
During the summer of 2022 the participants in the academy will delve into Italian stage music and Northern German sacred music, resulting in a semi-staged performance with the title Sacred and Profane. The repertoire will be hand-picked to fit this year's selected participants who will be coached during their musical studies by renowned tenor Anders J Dahlin, cembalist and musical director Johan Hansson Lindström and conductor Olof Boman. The stage work will be led by director Mira Bartov.
Apart from the musical training and performances, the singers of the academy will be trained in artistic entrepreneurship in seminars with invited experts. In a couple of meetings during the spring, the singers will be guided through the Baroque repertoire, on how to put together a concert programme and how to market it to an audience.
In instituting an academy for young singers, The Confidencen Opera & Music Festival wants to make use of the knowledge and experience in Baroque music that gathers at Confidencen during the summer festival. By letting young singers work theoretically and practically with experienced artists and experts, the Confidencen aims to contribute to the development and regrowth in the genre and to encourage a new generation to discover the artistic potential and possibilities in the music of this period. Through coaching in entrepreneurial skills, the artists acquire tools to influence their own careers and means of expression and thereby the Swedish and international music scenes.
The accepted applicants are each given a grant of SEK 15 000.
Place: Ulriksdal Palace Theatre Confidencen
Dates: 5–14/8 2022 and one occation in the spring
Coaches:
Olof Boman conductor and artistic director
Anders J. Dahlin tenor
Johan Hansson Lindström cembalist
Mira Bartov director
Singers of all voice types are welcome to apply.
The applicants must have started musical training on a university level and be born 1992 or later.
Applications must include a statement describing why the applicant should be accepted to the academy. Attached should be a CV and two sound files containing one aria from the Baroque era and one aria of the applicant's choice.
Applications are accepted by email to info@confidencen.se no later than March 1, 2022.
Confidencen Opera & Music Festival Academy is supported by the Anders Wall Foundation.
The coaches:
Olof Boman, artistic director of the Confidencen Opera & Music Festival and conductor, has a long international career as an opera and concert conductor. He has especially devoted himself to the music of Baroque, Classicism and Early Romanticism and has worked both with modern orchestras such as the Bremer Philharmoniker and Konzerthausorchester in Berlin as well as with baroque orchestras such as the Concerto Köln and the Akademie für Alte Musik, Berlin. Olof has always had a great interest in the relationship of art and aesthetics to the divine and is also studying theology at Lund University.
Anders J. Dahlin is one of Europe's foremost tenors and performs regularly with conductors such as Christophe Rousset, Emmanuelle Haïm, Hervé Niquet, Sir John Eliot Gardiner, William Christie, Alexis Kossenko, Francois-Xavier Roth, René Jacobs, Mark Minkowski and Philippe Herreweghe. He has sung leading roles in works by, among others, Rameau, Charpentier and Mozart in Europe and Australia.
Johan Hansson Lindström is a freelance cembalist and organist in Stockholm, educated at the Royal Academy of Music in Stockholm and at the Schola Cantorum Basiliensis, Switzerland. He has a wide field of work that includes orchestral, vocal and chamber music from the Renaissance to the present, with an emphasis on the Baroque. Johan also works as an organist in Maria Magdalena church on Södermalm in Stockholm.
Mira Bartov began her musical training at The Nordic Conservatory of Music. She was trained as an actress at Drama Centre London and as an opera director at the Opera Academy in Stockholm. She has staged many operas and musicals in Europe, as well as written and translated many librettos. She has been the Artistic director of the Folkopera in Stockholm and Dean at the Opera Academy in Oslo. Since 2008 she is a Professor of characterization in musical drama at HSM in Gothenburg, and since 2021 the commissioning editor of music at Swedish television.
Photo: Martin Hellström